Delighted to finally announce that Stampin' Blends alcohol based blending markers are now live to order!
These high-quality, dual-tip markers come in twelve exclusive Stampin' Up! colours. They each have a light and a dark shade, which will give you the best blending experience! Plus 2 skin colours (Bronze & Ivory) and a Colour Lifter too...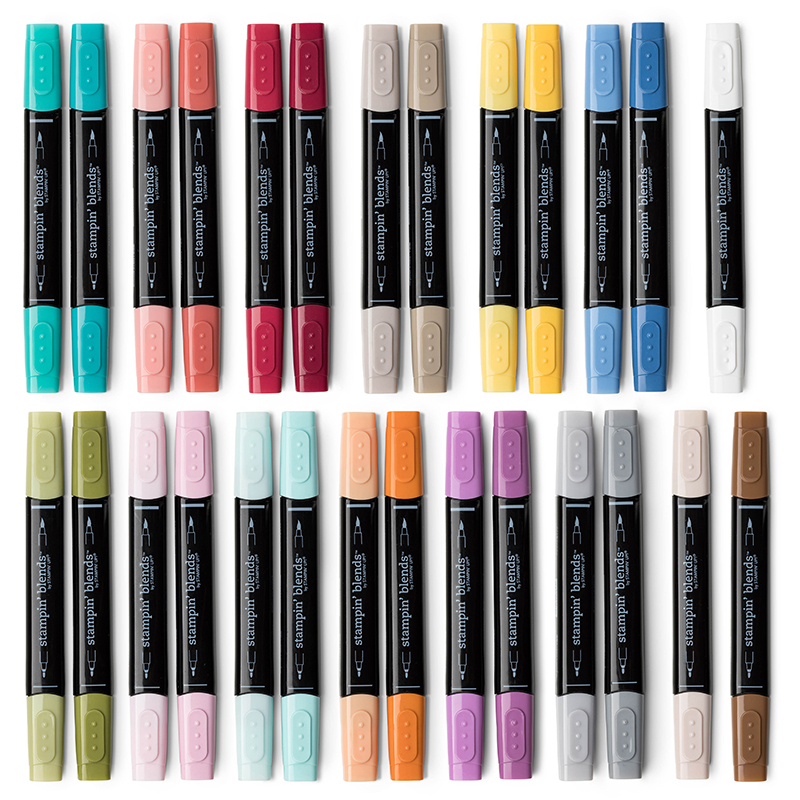 OR click here for more details and/or to register your interest in the Stampin' Blends Club that I am running over the next 3 months... just 1 place left... though I am alway happy to run another one!!
There is also a new Color Me Happy Project Kit and coordinating stamp set, which include beautiful line-art imagery that will give you ample opportunity to test these markers' superior blending abilities. You'll see that you don't have to be a van Gogh to achieve great results with these products!
Main Features...
Stampin' Blends come in Stampin' Up! colours. Because they fit right alongside our other product lines, they give you an opportunity to play with colour in a way that adds to your Stampin' Up! experience.

Add just the right amount of colour where you need it with the brush tip or fine-point.

Stampin' Up! have done in-house testing for evaporation and also life testing, and were pleased with the results. Each marker is sealed with a press-fit that prevents air from entering the barrel (which would lead to evaporation).
They are sold as individual markers and as a combo pack (with a light and dark shade).

The nestable lids are easy to keep track of and have a tight fit for long-lasting colour.
Click here or the picture below for the downloadable leaflet showing you the full range and accessories...
and/OR just click on the video icon below to briefly see them all in the flesh...
Or if you have a bit more time - and are wanting more detail - then check out the Stampin Blends Web Series coming your way on here from tomorrow...