Just thought I would pop on with some of my favourites spots on the Extravaganza Sale list due to start 11pm tonight...
C
lick here
for the full list and details... though the easiest way to view all the items on offer is to come back at 11pm tonight when I post the link to the full list on my
Online Store
...
And for my local ladies that can easily collect... remember that I am ordering Mon 20th November at 9pm....
But in the meantime... here goes... not in any particular order after the first few!...
At Home With You stamps & At Home Framelit dies
Definitely a very firm favourite of mine... much used... just put At Home in the Search box to the RHS to see how much! And particularly useful for dressing your
Bench Fold cards
...
Both stamps & dies available for £40.40 total saving you a further 10% on the £45 Bundled price. Really excited you can get these at discount...
In Color Stampin Write Markers
10% off
Delighted to see these on here for you... relatively cheap way to get all the new in colors in one hit!
Big Shot Platform
20% off
Can't believe how much easier I find this newly formatted platform and plate... I can even cut precision dies without the precision plate using this!! ( though usually with the help of a shim or two)
Big Shot die brush
20% off
Just couldn't be without it! Who needs poking out everything in their life!! Not me!
Hearth & Home dies 30% off
Best die ever! You could even have two like me! Best investment I ever made...
Number of Years 20% off. 20th November only
Can't believe this is on here! Brilliant and very versatile stamp set... and not just for the numbers... though be warned that you will then want the
Large Numbers dies
if you buy this!
Milestone Moments 20% off. 20th November only
Definitely a keeper...
Touches of Texture 20% off. 20th November only
Oh so useful... and so creative... must use this set most weeks... available discounted in both clear and wood...
Brights 12x12 Cardstock Pack 30% off
Stock up on some 12x12 in 3 colours that can be used all year round whilst you can get such a great reduction... Bermuda Bay, Daffodil Delight & Real Red
Detailed Dragonfly dies 10% off
Super Duper 20% off. 20th November only
Know this one was very popular when we used it in classes... so believe it is still on a few Wish Lists
Cool Treats & Frozen Treats Framelits dies... 20% off ( Cool Treats stamps 20th November only)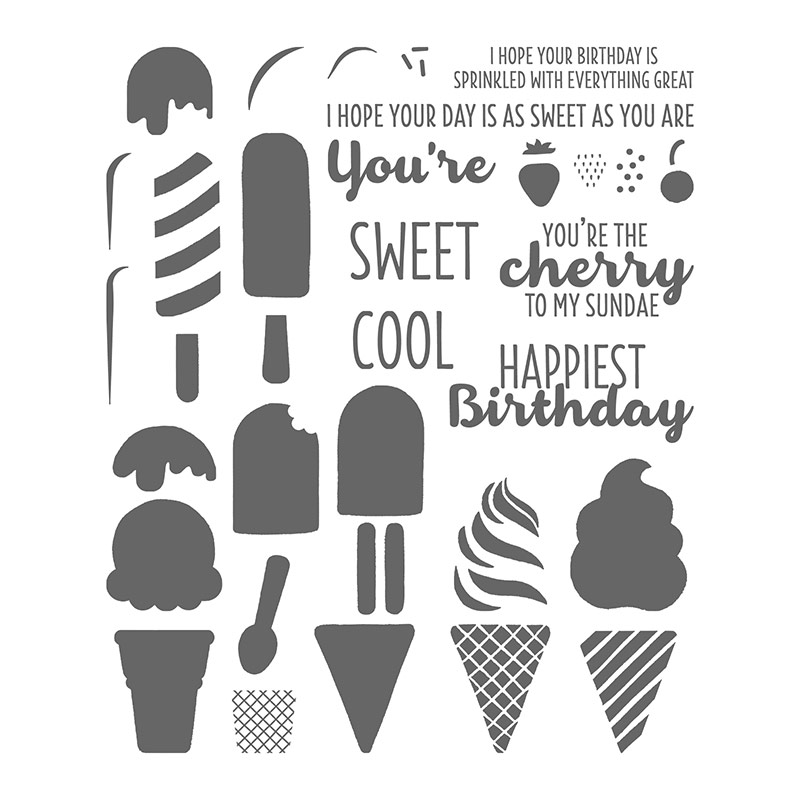 Fresh & Funky and for the young at heart ( or ice cream fanatics!)
Know a lot of you had these on your Wish List... you know you still want them really... now's your chance!
Santa's Sleigh Framelit dies 10% off
Again you can let the dies do all the work... or buy the co-ordinating
Santa's Sleigh stamp set
too... one of the most popular sets to use last year...
Window Box Thinlits dies
Know a lot of you desire these... lovely little hexagon box with lots of decorative options... in a snap...
And a few others that I know some of my regulars have had on their Wish List for a while... so here you go ladies! With less blurb from me...
Remarkable You. 20% off. 20th November only
Bloomin Love 20% off. 20th November only
And a few discounted punches that can be used with or without the co-ordinating stamp set... Bell, Holly Builder, Blossom Builder...