Hello and welcome to the Global Stampin Friends Blog Hop.... You are now with Amanda Bates at The Craft Spa near York in the UK...
Our theme this month is "That Little Bit Extra"... a chance to focus in on the embellishing part of our crafty life...
So I decided to focus on a pack of embellishments... the
Painted Love Gold Vinyl Sticker
pack... as it is easily missable in the Spring Summer catalogue... and they are rather nice!!! But I needed an excuse to use them...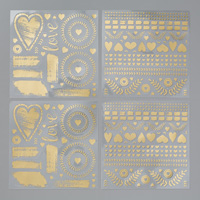 So easy to use to spruce up anything... with 2 each of 2 different sheets in the pack... but for today I have used them as a feature on a Home Decor item.... my huge fat candle in a storm lantern...
Some are stuck straight onto the candle... as the wax/heat never gets anywhere near those sides...
And the others simply adorn the top rim and base of the storm lantern... Spot the circle around the centre/stem of the base... just snip the circle so you have an open side to place around the stem... simples!
But they are still out... and next week I intend to use some on some simple cards... and the scrapbooking pages in tomorrow's blog hop will have some added too!! As perfect for the job... shame I didn't think of that earlier!!! But I have been so busy creating so much this week that I had to focus on just ONE creative thing at a time!!
And I might just use them with the
Painted Love suite
as intended too... as I know that will make some of my ladies very happy!!! And so here they are on one of the Stampin Up display boards so you can see the suite all together...
And so now it is time to pass you onto the lovely
Lisa Ann
in the USA... just click on the big arrow to go straight there...
And here is the Full Roll Call if you prefer to hop that way... or in the case of any link problems... as most of us are away at the big Stampin Up event this weekend.. and so will be less available than usual to quickly sort any problems!!!